Drop Saw Trimmers for Boards and Cants
Model LST-12/16 Drop Saw Trimmer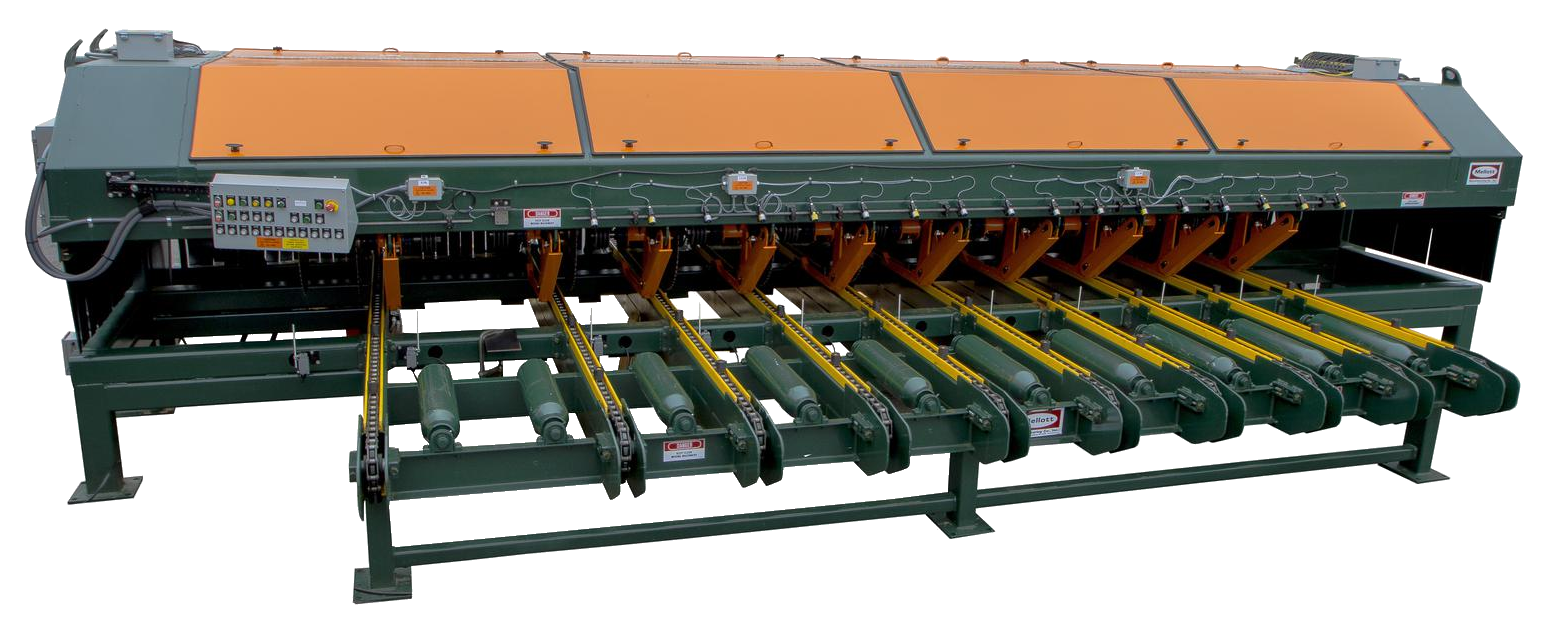 2 7/16" Diameter shaft driven trimmer can be powered by dual hydraulic or electric motors.
28" diameter saws will trim up to 8" high cants and will pass 12" high cants.
Parallel arm hold downs with shocks
Easy access to saw ladders with hinged front covers with nitrogen gas assist springs, hinged top covers and hinged rear doors
Enclosed chain return for a smooth interior, prevents hang up of trimmed pieces falling through to a waste conveyor
Easy belt replacement, poly-tire type couplings to connect the shafts. Simply remove the tire to slip the belts through gap between the coupling hubs.
Dual assist springs used on the saw ladders to raise the saws quickly. Stop collars on springs to limit the down stroke in case of a cylinder failure. Prevents the saws from contacting metal.
Quick belt change, loosen 3 bolts, rotate clamp handle to release tension on the belts. Belt take up is guided and piloted flange bearings are used so saw alignment is not lost when replacing belts.
Stacked cylinders are used for 3 saw positions, trimming partially raised to pass thru ties and large cants.
Heavy and robust construction, Trimmer as shown weighs 23,000 lbs.
Main Product Components
| | |
| --- | --- |
| Capcity, Length: | Trim 4' to 16' with a Minus 1' Saw for Odd Lengths, Pass 20' |
| Capacity, Thickness: | Trim 8", Pass 12" |
| Frame, Saw Support: | (2) 12" x 6" x 1/2" Wall Tubes |
| Drive Shaft: | Dual Hydraulic Motors or Dual 25 HP TEFC Motors |
| Drop Saw Shaft: | 2-7/16" Diameter |
| Saws: | 28" Diameter, 60 Tooth |
| Saw Drive: | (3) "C" Section Belts with 6" Sheaves |
| Saw Lift: | 3-1/4" Bore Stacked Cylinders for 3 Position Saws |
| Saw Lift Assist: | (2) Springs on Guide Rods with Stop Collars |
| Chains: | 81X with Roller Lugs |
| Chain Drive: | Hydraulic Motor or 5 HP Variable Speed Electric |
| Trimmer Access: | Hinged Doors on Back, Front and Top |
This Product is included in the following System: